Welcome to Dog Town Grooming. All of our grooming packages include breed specific trims, premiuim shampoo, facial scrubs, blow drying, hand brushing, nail trimming, ear cleaning, teeth cleaning, and a bandanna or bows.

For your convenience, if your dog is spending the day or boarding at Dog Town, we can schedule your appointment while he/she stays with us. Cost varies according to size and breed.
Meet our groomer
MaryKate
MaryKate Frank likes to refer to herself as "Aunt Mary" when talking to her 4-legged clients. She has been professionally trained and worked at PetCo for many years, and as a result, has a following of loyal and happy customers! Currently she lives in Lansdale with her husband, Matthew, their two kitties and two wretchedly ungrateful Pekingese.
Grooming Rates
20.00 and up — Bath only. Please note; your large, fluffy, hairy dog needs more soap, water and time. Cost will vary.
45.00 and up — Full-service Grooming*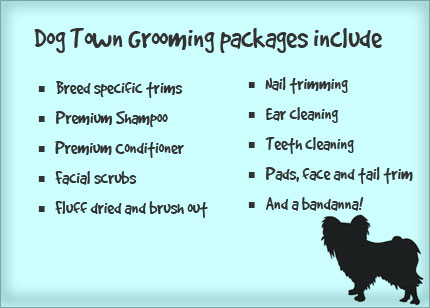 Call today to schedule your next grooming appointment.